Most businesses manage the shredding of their private data and confidential paper waste either in-house or through an external shredding service. With the new General Data Protection Regulation (GDPR) coming into force on 25th May 2018, many businesses have been reviewing their approach to shredding to ensure they will be compliant. When preparing for GDPR, businesses have realised that they may need to make significant changes to processes and procedures in order to reduce the risk of a data breach when it comes to dealing with personal data and documents.
As a business owner or manager and as part of your GDPR compliance planning, it's important that your staff are aware of the different types of personal, sensitive or confidential data and how it should be handled and destroyed appropriately. For example, have you clearly defined which types of documents need to be destroyed immediately and do you have the processes in place to manage this?
Due to GDPR, many businesses now want tighter control and security when managing their paper waste and have chosen to handle things in-house and on-site. Businesses that are able to guarantee that their documents are being shredded securely on their premises are finding additional reassurance, as opposed to those who send it away with little or no control over how and when it is destroyed. However, if there is not a clear policy defining the types of documents that need to be destroyed and appropriate timescales for each, the shredding process is in danger of turning into an adhoc process that piles up and gets out of control.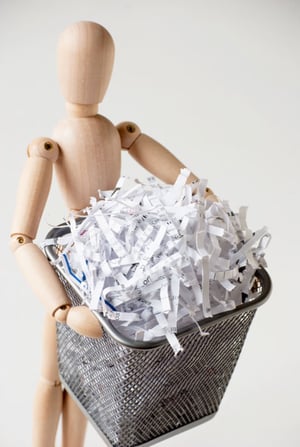 A popular approach is to simply adopt a 'shred all policy', which effectively means that your staff get into a routine of shredding all documents as soon as they are no longer needed. This solution can be managed in-house by investing in quality shredding equipment but it will also require a significant investment in staff training and monitoring.
Alternatively, many companies are now opting to use a mobile on-site shredding solution that combines the control and security benefits of on-premises shredding with the reassurance that a specialist company is providing a regular scheduled shred service.
At Prism, we offer a mobile on-site secure shredding solution that ensures that confidential and private materials remain secure. As part of our regular scheduled shred service, we provide a range of secure lockable containers for your office. All documents and data are cross-cut shredded in one of our specialist vehicles at your premises and a Certificate of Destruction is provided after every shred.
HOW IT WORKS
On a pre-agreed day our shredding vehicle will visit your site and our uniformed security vetted operatives will collect the material for destruction and transport it back to the shredding vehicle where destruction will be immediate, offering you a highly secure on-site service and secure chain of custody from collection to destruction.
We will provide a Certificate of Destruction enabling full traceability and accountability in line with the Data Protection Act. All documents are shredded to BSIA standard EN:15713:2009 level 4 / BS8470 level 4.
Once the shred service is complete your shredded documents will be taken away to be recycled.
A UNIQUE OFFER
We are delighted to be currently offering a complimentary trial of our secure console bins with a regular on-site shredding service* - it's easy, just drop your confidential documents into the locked bin, you don't even need to take out or remove any staples or paperclips!
Once you have had your free shred you can choose to keep your bin and carry on with your regular shred visits at our agreed rate - or if you decide it's not for you we'll simply remove the bin.
To find out more about our document management service and free trial, please contact your account manager, local customer service team or click here.
More Reading...

As a partner of Kyocera, we would also like to offer you this free guide.
File under compliance is a detailed, easy-to-digest guide to the legal and technical aspects of handling paper documents that contain personal data. It features expert insight from KYOCERA's legal counsel and corporate compliance team as well as offering practical advice for managing and securing printed and digital records.